May 26 update
As your best partner in logistics, we've been working to provide you with simple and fast solutions and the best alternatives available in air, ocean and ground freight to support your business development.
The world has started the countdown to the economy full reactivation! For the last few weeks, each of us has been taking care of ourselves, working from our homes, doing our best. Day by day.
In Europartners Group, that has been our daily routine, too. Additionally, we've strengthened communications to keep the minds that move the world connected. To move the world no matter where we are, we have developed EP Quote Now, an innovative tool that enables you to book your shipments in three steps, easy as pie:
1. Quote it                                       2. Compare it                                        3. Book it!
Try it now!

If you have any doubts about Incoterms® or you require personalized attention on a specific country, route or mode of transport, contact your Europartners Group sales executive, call us (from Mexico) at 800 888 EURO (3876) or write us from anywhere in the world at the following email: info@europartners.com.mx
Air freight
Latin America
This week, we have weekly cargo flight options to Colombia and Brazil to and from Mexico; additionally, we offer alternatives at the main airports in Latin America.
On-board courier (OBC) services are still suspended due to the closure of borders to non-residents and the null operation by airlines to that area. In charter mode, we can offer you options for the Mexico-Latin America route with a commercial airline (except to Venezuela).
North America
We're covering all the main airports in the United States from or to Mexico. We have direct flight options on the route from/to Canada. We are operating OBC services to the US regularly, departing from Mexico City (MEX); to Canada, we are flying to the US and crossing the border by land. In charter mode, routes to the US and Canada continue to operate normally on GO-NOW services.
Europe, Middle East and Africa (EMEA)
We offer alternatives to Italy from/to the main HUBs in Europe and a weekly direct route to London. We also maintain our weekly consolidated service from Germany, via Luxemburg. Although OBC services are mostly interrupted due to the closure of borders to non-residents, we can fly to/from Spain, Germany and France twice or three times a week.
Asia
We have a direct service from Seoul to Guadalajara and a consolidated service from China, both departing twice a week. Additionally, we offer other weekly options to/from Guangzhou, Shenzhen, Shanghai or Hong Kong, quoted per event. Due to Shanghai's airport saturation, full charter operations are restricted, but we continue to operate from alternate airports.
Flights to and from Japan keep departing on a regular basis. We have OBC services with direct flights to Mexico, without connection in the US or Canada. Services from and to India are suspended at this time.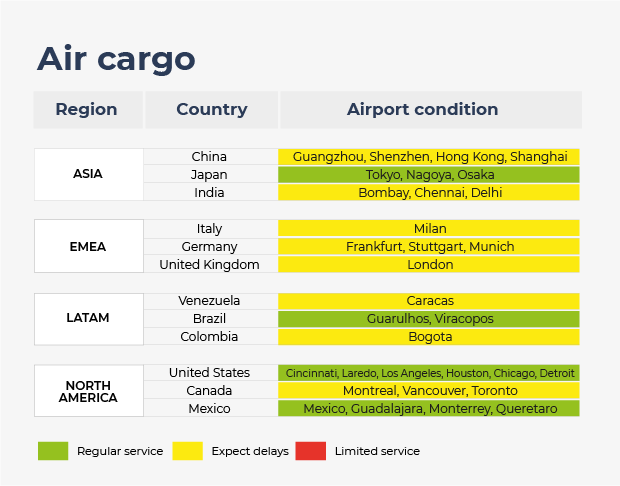 Ocean freight
We have own offices in several countries, enabling us to provide you with the perfect solution to mitigate the impact of the contingency on your business and to ensure that your interests are protected. Give us visibility of your needs, so we can advise you in the best way.
Project cargo
Shipping heavy, rolling or production machinery has never been so easy; our team of experts will help you generating cargo and stowage plans, optimizing logistics times and budgets.
We are ready to be part of your biggest projects, providing you guaranteed spaces every week, special equipment immediately, competitive costs and direct routes.
Europe
Some terminals are slightly affected by the reduction in labor force, but operations continue close to normal.
Italy – Terminals operate with delays due to downsizing and sanitary restrictions.
Spain – Slight impact on productivity; currently, there are no other interruptions due to COVID-19.
Portugal – Terminals in Lisbon are operating regularly.
Latin America
Chile – The Iquique International Terminal (ITI) and the Antofagasta International Terminal (ATI), announced that they will maintain their operations normally during the quarantine period decreed by the authority, in order to keep the supply chain working.
Guatemala – The Puerto Barrios Railway Terminal announced that it will continue to work normally for the attention of ships, reception and dispatch of perishable commercial cargo, as well as for cargo services, committed to the new presidential provisions.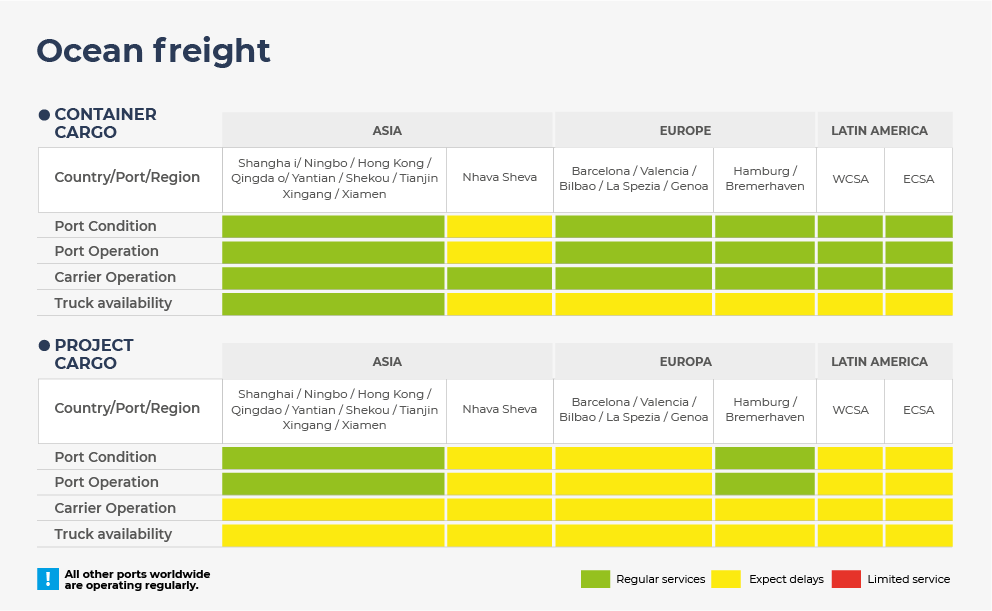 Blank sailings:

Ground freight
Central America
The Paso Canoas customs office in Panama and the Peñas Blancas customs office in Costa Rica are closed to the transit of non-essential goods. Transit into El Salvador is limited, due to medical check-ups to enter the country.
At the other borders, operators are going through medical checks at the border – their entrance is allowed only for the unloading of units.
Transport units can circulate in Guatemala and Ciudad Hidalgo if they leave before the curfew.
North America
Mexico-United States and United States-Canada borders are still open and ground transportation units are operating normally. We keep offering ground freight services on Mexico's main borders: Laredo, Reynosa/McAllen, Matamoros/Brownsville, El Paso/Juárez, Nogales, Mexicali/Calexico, Tijuana/San Diego.
Carriers continue to operate without incidents. We have services available throughout Canada, the United States and Mexico.
It is important to confirm if the consignees are available to receive the cargo, to avoid temporary storage costs; besides loading/unloading times remain slow in warehouses, derived from the contingency situation.
Over the roads inside Mexico
Operators must travel with protective material (face masks, gloves, antibacterial gel) and undergo physical examinations before starting a service; however, we have no reports of road delays due to road checkpoints.
#TogetherApart
If you need more information, quotes or reservations, contact us right now sending an email to: info@europartners.com.mx or calling (from Mexico) to 800 888 EURO (3876). You can also check our personalized consultancy services for exclusive logistics solutions.