November 2020 update on international transport routes and modalities to export to or import from Mexico.
New lockdown measures announced in Europe are not contemplating impacts to markets worldwide. They must keep on operating in the new normal in different industries.
We are by your side to be more than a supplier: we want to be the strategic logistics partner that will enable you to accelerate your business and keep your supply chains working perfectly at a high level of activity, without interruptions or delays.
You will find in this guide quality information about routes and services available from November 1st on to import from Mexico or export to the country.
If you require personalized attention on a specific country, route or mode of transport, our teams are by your side 24 hours a day, seven days a week, every day of the year. Call us from Mexico at 800 888 EURO (3876) or contact us from anywhere in the world at the following email: info@europartners.com.mx

Air freight
Latin America
You can import cargo from Brazil weekly, using a consolidated service in a direct flight. We have weekly cargo flight options to Colombia, Costa Rica and Ecuador to and from Mexico.
In charter mode, we can offer you excellent options for the Mexico-Latin America route (except to Venezuela) and on-board courier (OBC) services from/to the Dominican Republic.
North America
We're covering all the main HUBS in the United States and Canada from or to Mexico, with an internal transit service to the main Mexican destinations, saving you time in customs.
We are operating OBC services from/to the US regularly; to Canada, we are flying to the US and crossing the border by land.
In charter mode, routes to the US and Canada continue to operate normally on GO-NOW services.
Europe, Middle East and Africa (EMEA)
We've guaranteed more space in our consolidated service from Germany, handling complete positions and with our own pallets' assembly now three times a week. Also, we take your cargo from Mexico to Germany with guaranteed spaces in a weekly direct flight.
We also offer air freight solutions with direct flights from/to Italy, Spain and the United Kingdom.
OBC services increase frequencies and availability each day. We have professionals available to/from Germany, France, Italy, Spain and Czech Republic.
Asia
We have full charter services available to the continent and we are offering a consolidated service with guaranteed spaces from Hong Kong and Shanghai, departing twice a week.
Flight your cargo from/to Mexico through several routes in Japan and South Korea.
We have OBC services from Asia with direct flights to Mexico (frequencies and availability are limited).
At Europartners Group, we have the most robust network of on-board couriers in the world. Click here to check everywhere we have a professional available to make your global dreams a reality.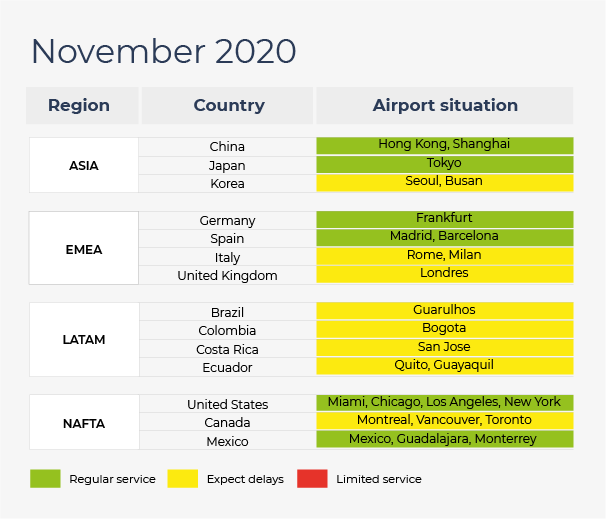 Ocean freight

Asia
China
The return of the Golden Week holiday brought with it port congestion, rates reaching USD 4,000 per container and blank sailings from several shipping companies in the first weeks of November. We expect this panorama will continue in the first week of the month.
India
The situation in this country remains quite complicated. Upcoming reservations with the shipping companies we work the most are available until the third week of November. We expect this lack of equipment to last at least another three months. The port of Colombo is congested. All the above derives from the decision of the shipping companies to route the ships in support of other trans-Pacific itineraries. We also expect rate increases for the route to Mexico in the following weeks.
An additional factor to consider is that on week 46 (November 13 and 14), the country will celebrate the national holiday of Diwali, in which most of the country will not be working.
Latin America
Mexico
Demonstrations near Lazaro Cardenas port
The protesters blockades on the main railway line of the Caltzontzin district continue, affecting services to and from the port of Lazaro Cardenas.
We have been informed that there is no longer railway equipment in ports and internal ramps available to load containers. Therefore, some shipping companies such as Maersk have decided, as of October 19, to suspend the railway service documentation until further notice, based on in the availability of platforms for the following days.
It is also relevant to comment that the railroad operator Kansas City Southern of México (KCSM) is negotiating with the authorities to accelerate the release of the affected tracks. KCSM still has the documentation patterns open, so it is likely that other shipping companies still agree to reserve this modality (rail transport).
We suggest caution to avoid further delay in your final deliveries, since at this time the "all truck" service will be the alternative.
It is important to mention we will not be covering that extra costs generated by this situation unrelated to the railroad, shipping companies and Europartners, as well as charges generated by changing the modality to all truck. We are sorry for the effects that these situations beyond our control may cause.
We got reports that some of these demonstrations have led to violent acts, putting at risk the safety of those who also intend to travel along the roads of Michoacán, causing effects such as units stopped for hours, delays in entering and leaving the port, reaching the empty containers, etc.
In Europartners, in alliance with our suppliers, we always seek to offer the best and fastest service. In this extraordinary -and beyond our control- situation we remain committed to achieving it, considering and putting the safety of the personnel that is part of the chain first. Therefore, it is likely that delivery times shall be impacted.
We suggest approaching your Europartners executive to review alternatives to avoid affecting your shipments.
Europe
Second wave of COVID-19 infections
Countries such as Spain, France and Italy report that COVID-19 cases have increased in recent weeks. The basic measures necessary to deal with this second wave have been reinforced.
In the Netherlands, cases have also increased in the last two weeks. The local government instituted again a temporary lockdown, and most people will be working from home once more.
England has returned to lockdown again; as a result, there is a shortage of ground freight in some areas. There have been some delays in ship itineraries of up to seven days and there is a record of possible ship omissions to the ports of this country.
Logistics is considered a first necessity activity, so we don't expect impacts on the regular operations of the shipping companies.
Germany
Blank sailing – The country enters a partial lockdown as of November 2; people who can work from home will have to do so. Bars and restaurants will be closed, mass events will be canceled. Schools will remain open; shops will remain open with a controlled influx and borders remain open.
Spain
The central government issued a state of alarm in the last week of October. The intention is to minimize the risk of contagion from social interaction. National and international trade remain normal for the moment. Due to the blank sailing presented by the alliance of the shipping companies Hapag and Zim for the first week of November, we understand that the ships available will be full on the following two weeks.
In northern Spain, the dockers continue on strike in Bilbao, which is generating congestion in the port, since they do not allow ships to operate and a lot of cargo is accumulating.
France
The local government restored the lockdown as of October 30. The spaces availability is complicated throughout northern Europe. Specially ports like Le Havre are lacking 20DC and 40DC equipment in shipping companies such as Maersk and Hamburg Sud.
Other countries
Nations such as Italy, Belgium, Holland and England have also established similar measures. At the moment, most are valid for the entire month of November, but this can change quickly.
We ünderstand that logistics is an essential activity, so the interruption of activities is not foreseen in ocean freight. Nevertheless, we suggest you to keep in constant communication with your commercial and operations executives to be monitoring how this second wave evolves.
Ocean freight overview in the beginning of November 2020
The possible risks we foresee are:
lack of ground freight
congestion on barges
congestion on rail
Booking 2 or 3 weeks in advance will be essential at this time. In the near future, if the number of infections increases and borders are closed, transferring merchandise from transport modes shall impact hard the times of collection and arrival at the ports. However, the latter is still out of the picture.
Aside from looking for full container spaces, we also suggest you checking out the option to convert your FCL to LCL. In this mode, the monthly rates were kept, we map the transit times so that the departures are recurrent, in some ports we offer weekly departures so that you do not stop shipping and receiving cargo. Furthermore, with LCL we can forget about delays; we have solutions in ground freight according to your urgency for both dedicated and consolidated cargo.
 Ground freight
Can ground freight provide a good option to transport your time-sensitive cargo? Of course! Click here to learn all its strongest time-sensitive features in a glance.
North America
LTL services offer wide availability and technology to serve consolidated import and export cargo.
The industrial sector continues to enhance operations at lower levels compared to last year, but with visible improvement, waiting for the end of the pandemic.
Rates increased in the North American Spot FTL market by 3% (comparing October 2020 vs. September 2020). Generalized increase in rates reaches 52% if we compare October 2020 with May 2020, reaching a new historical record. We continue to expect rate increases, possibly until the first quarter of 2021 (Q1 2021), mainly influenced by the season, the imbalance between imports and exports, and the lack of drivers.
The MEX-US and US-CAN borders remain open and unimpeded regarding land cargo transportation. We continue to offer services in the main Mexican land borders: Laredo, Reynosa/McAllen, Matamoros/Brownsville, El Paso/Juarez, Nogales, Mexicali/Calexico, Tijuana/San Diego.
Rates van to truckload ratio (FTL cargo waiting for a unit) increased in October to USD 5.45.  Rates in September were USD 5.31. In July, they were at USD4.40 and USD0.98 in April 2020.
In Laredo (TX), the market still shows +25 loads waiting for a truck, while in El Paso (TX), +20 orders are waiting for a unit.
Laredo is still on a curfew from 10pm to 5am. The other border cities are working regularly, only with delays in crossing for revisions.
We've noticed that the intermodal spot markets are still volatile. It is expected that FFCC cargo will switch to FTL & LTL modalities, involving possible rate increases.
United States: The cargo crossing has been affected only with minimal delays due to health controls and a reduction in lanes due to temporary closures. Afterhours operation for transfers is limited due to curfew.
Canada: Working on the new normal. Only a few precautions are being taken such as greater sanitary control and medical checks at the border, since trade is within the list of essential activities, with priority to the transport of basic goods.
Central America
Each day, more enterprises are reactivating in the new normal in Central America and Mexico, with a good number of units available to export and import in the region.
Rates remain stable, with a good negotiation margin for high volume cargo.
Sanitary filters are maintained in all countries, both for driver access and for loading and unloading goods. The rebound in COVID-19 cases has not affected land borders and the exchange of goods using this alternative.
Costa Rica: Border open to international carriers with sanitary measures at the crossing, working 100%.

If you need more information, quotes or reservations, contact us right now sending an email to: info@europartners.com.mx or calling (from Mexico) to 800 888 EURO (3876). And if you want to quote, compare and even book by yourself, get to know our new online tool!