September 2020 update on international transport routes and modalities.
While the world builds the new normal in different markets and industries all over the world, we are by your side to accelerate your business and keep your supply chains working perfectly at a high level of activity, without interruptions or delays.
You will find in this guide quality information about routes and services available from September 1st on.
If you require personalized attention on a specific country, route or mode of transport, our teams are by your side 24 hours a day, seven days a week, every day of the year. Call us from Mexico at 800 888 EURO (3876) or contact us from anywhere in the world at the following email: info@europartners.com.mx

Air freight
Latin America
We have weekly cargo flight options to Chile, Colombia and Ecuador to and from Mexico. Flights to Brazil were reactivated.
In charter mode, we can offer you excellent options for the Mexico-Latin America route (except to Venezuela) and on-board courier (OBC) services from/to the Dominican Republic.
North America
We're covering all the main airports in the United States from or to Mexico.
We are operating OBC services from/to the US regularly; to Canada, we are flying to the US and crossing the border by land.
In charter mode, routes to the US and Canada continue to operate normally on GO-NOW services.
Europe, Middle East and Africa (EMEA)
We've guaranteed space by adjusting our weekly consolidated service rate from Germany, handling complete positions and with our own pallets assembly. We also offer air freight solutions from/to the main hubs in Europe, with regular routes.
OBC services increase frequencies and availability each day. We have professionals available to/from Germany, France, Italy, Spain and Czech Republic.
Asia
We have full charter services available to the continent and we are offering a consolidated service from Hong Kong, departing twice a week, and options from/to Shenzhen, quoted by event.
Cargo flights routes to and from Japan, South Korea and Thailand keep departing on a regular basis. We have OBC services from Asia with direct flights to Mexico (frequencies and availability are limited. Contact us now to book a space!).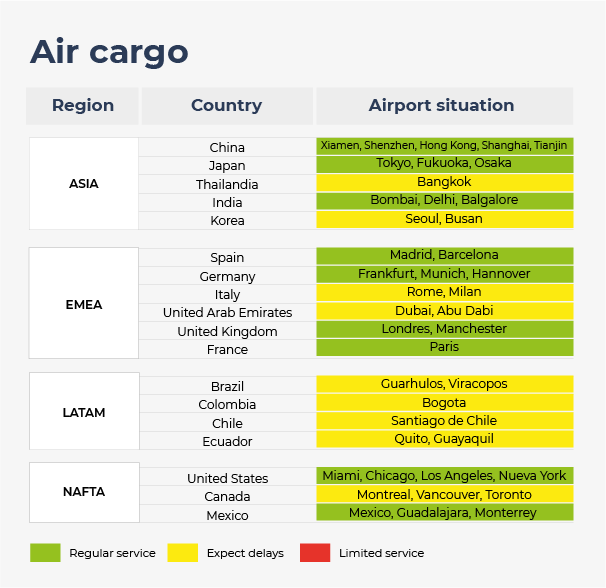 Ocean freight
Good news! Our shipping operations are fully functional. In general, the situation has become more stable and predictable. All over the world, COVID-19 effects are decreasing as the weeks go by and a new normal is arising.
North America
Blank sailings, the decrease of ship operations and in the availability of equipment are causing a serious shortage of space in most services with a link to North America. Additional carriers are being implemented and services will be restored according to the market needs.
United States and Canada – Due to the decrease in ship operations, some ports or terminals have adopted special hours of operation.
Europe
Our local partners report heavy booking activity, with limited availability of vessels. On the other hand, the availability of equipment becomes a major concern due to an expected reduction in incoming flow parallel to longer shipping trips (in which equipment is used for longer periods).
Germany: Blank sailing in Hapag in week 37 (September 6-12).
Since July, we have been informing about the application of the low water surcharge due to the lack of rains that affected several areas of the Rin river. The surcharge is not negotiable and cannot be avoided; we foresee that it will continue to be charged all over September or until the rain levels increase.
Spain: Blank sailing in Hapag in week 36 (August 31 to September 5).
Latin America
Ports are operating in the new normal. Regular activities are being resumed with health recommendations and social distancing measures.
Terminals in Dominican Republic are operating from 8am to 5pm due to the national curfew. Ecuador transport reaches 80% of capacity due to the shortage of cargo trucks as a result of the curfew in force. In Peru, the port of Callao operates with delays and productivity reduced by 20%.
Asia
India (North and East):
Due to the imbalance of imports and exports in the country, the shippers were completely booked in recent months. In September, the offer will depend exclusively on the new imports.
The sectors of Far East, China, the Gulf, etc. were mostly affected, since several shipping companies operating in the region –such as ZIM, Wanhai, Emirates, One line and YML, among others– have stopped accepting reservations for September due to a null inventory or because they're giving priority to other routes such as USA, Europe, Africa.
COSCO has a null inventory of 20 since the last 2-3 weeks and can release 1-2 FEUS of TKD and Dadri. At present, Hyundai only attends selective direct ports on the east end, since it is not willing to take charge to overflow destinations due to the congestion in Singapore. The Singapore feeder connection has reduced its capacity and Hyundai announced it cannot afford to support an exorbitant storage cost in Singapore.
China:
The main shipping companies report being fully booked and, additionally, high season is starting, which will result in a reduction in services available.
The general rate increase (GRI) will be implemented starting on the 1st of September. The tariffs now will only be valid for a week.
Project cargo
In a world of constant changes due to the new normal, Europartners Group offers you a team specialized in transporting high impact projects, with a logistical plan tailor-made to your most special needs and 24/7 consultative attention.
Send us your cargo plan to work under pre-booking. Gives visibility to your business so we can provide you the best solution to your needs.
For weeks 35 and 36, we foresee that sales and deliveries to ports based in Asia, Europe and Latin America are subject to volume availability at the time of boarding. Therefore, in order to avoid delays, we recommend contacting projectcargo@europartners.com.mx so we can offer you the best options for your project.
Ask about our rewards programs and discover the benefits of being part of our Portfolio of Spoiled Customers 😊
 Ground freight
North America
The volumes transported by ground freight and the spot tariffs of this mode continue to increase, in line with the economic recovery of new normal. However, the scenario could change if there were more cases of COVID-19 in the region.
United States: The imbalance between the availability of units at the Southbound vs. Northbound continues. We've noticed that spot rates have been increasingly going up for 14 consecutive weeks. We expect sustained increases up to the fourth quarter of 2020.
Hurricane Laura y and Tropical Storm Marco will impact significantly Louisiana, Arkansas, Mississippi and Alabama, affecting transportation availability and increasing fares, respectively.
Laredo is still under curfew, from 10pm to 5am. Other border towns are working regularly, only with delays in the crossings, due to revisions. We ask you to be in constant contact with your shippers and consignees to make sure they're open to release and receive merchandise.
Cargo crossing has not been affected. We observe only minimal delays due to health controls and temporary reduction in lanes. The afterhours operation is limited to transfers due to Laredo's curfew. The reduction in hours worked in the automotive sector continues to affect the number of units available, as transporters are still looking to move first-necessity o or medical cargo.
Canada: Trade is on the list of indispensable activities and the transport of basic goods is a priority. Borders are working normally; some precautions are being taken, such as major health control and medical reviews.
Central America
Each day, more enterprises are reactivating in the new normal in Central America and Mexico, with a good number of units available to export and import in the region.
Rates remain stable, with a good negotiation margin for high volume cargo.
Sanitary filters are maintained in all countries, both for driver access and for loading and unloading goods. Special cases:
Guatemala: The curfew was cancelled.
Costa Rica: Access to all types of merchants is allowed; however, the restriction to national drivers continues, which creates a bottleneck to access the country.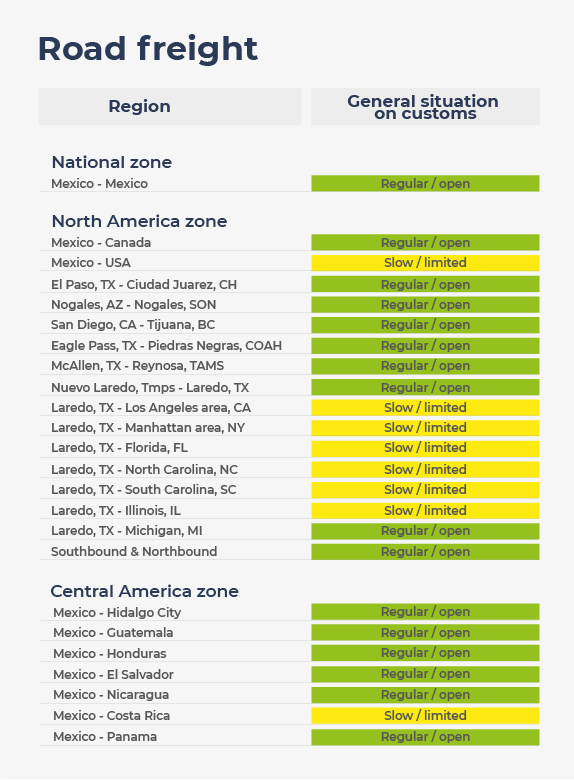 If you need more information, quotes or reservations, contact us right now sending an email to: info@europartners.com.mx or calling (from Mexico) to 800 888 EURO (3876). And if you want to quote, compare and even book by yourself, get to know our new online tool!