July 1st update on international transport routes and modalities.
In this new normal in logistics, our commitment is to provide you with the best import and export solutions, to connect the minds that move the world, without disruptions or delays in supply chains.
We hope the quality information assembled in this guide can help you grow your business with our updated routes and services. If you require personalized attention on a specific country, route or mode of transport, our teams are by your side 24 hours a day, seven days a week, every day of the year. Call us from Mexico at 800 888 EURO (3876) or contact us from anywhere in the world at the following email: info@europartners.com.mx

Air freight
Latin America
This week, we have weekly cargo flight options to Colombia and Ecuador to and from Mexico, always through the best route available; additionally, we offer alternatives at the main airports in Latin America. Flights to Brazil are quite limited and we only have options available with connecting flights.
In charter mode, we can offer you options for the Mexico-Latin America route with a commercial airline (except to Venezuela). On-board courier (OBC) services remain suspended due to the closure of borders to non-residents.
North America
We're covering all the main airports in the United States from or to Mexico.
We are operating OBC services to the US regularly, departing from Mexico City (MEX); to Canada, we are flying to the US and crossing the border by land.
In charter mode, routes to the US and Canada continue to operate normally on GO-NOW services.
Europe, Middle East and Africa (EMEA)
We have spaces guaranteed on our consolidated service from Germany, twice a week, handling complete positions and with our own pallets. We also offer air freight solutions from/to the Italy, Spain and France, with regular routes.
We have OBC services to/from Spain, Germany and France twice or three times a week.
Asia
We have a consolidated service from the main origin airports in China, departing twice a week. Additionally, we offer options from/to Xiamen, Shenzhen, Shanghai, Tianjin or Hong Kong, quoted by event. There's more availability in Shanghai's airport, but full charter operations are still restricted. We continue to operate from alternate airports.
Regular weekly cargo flights to and from the main airports in Japan, South Korea and India keep departing on a regular basis. We have OBC services with direct flights to Mexico, without connecting in the US or Canada.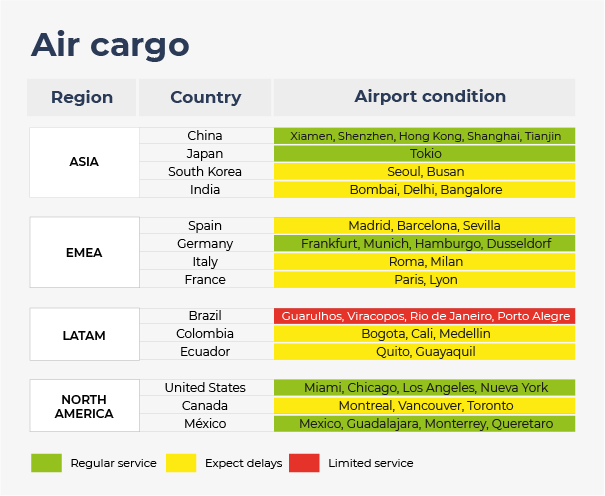 Ocean freight
Latin America
Good news! Our shipping operations are fully functional, with minimal impact. Due to the decrease in ship operations, some ports and terminals have reduced the days or hours of operation. All port terminals will prioritize shipments of essential products (medical products) over other products.
When exporting from Mexico, reduced space is expected for the West Coast of South America (WCSA), but you can send us your cargo plans to work under pre-booking.
Europe
The blank sailings program for weeks 27 and 30 must affect, so far, two departures towards Germany.
For transporting your heavy machinery, we offer quarterly periods at BAF surcharge and available spaces under cover; due to the blank sailings, we suggest you contact us through: projectcargo@europartnerscom.mx to review the most convenient cargo plan for your shipment.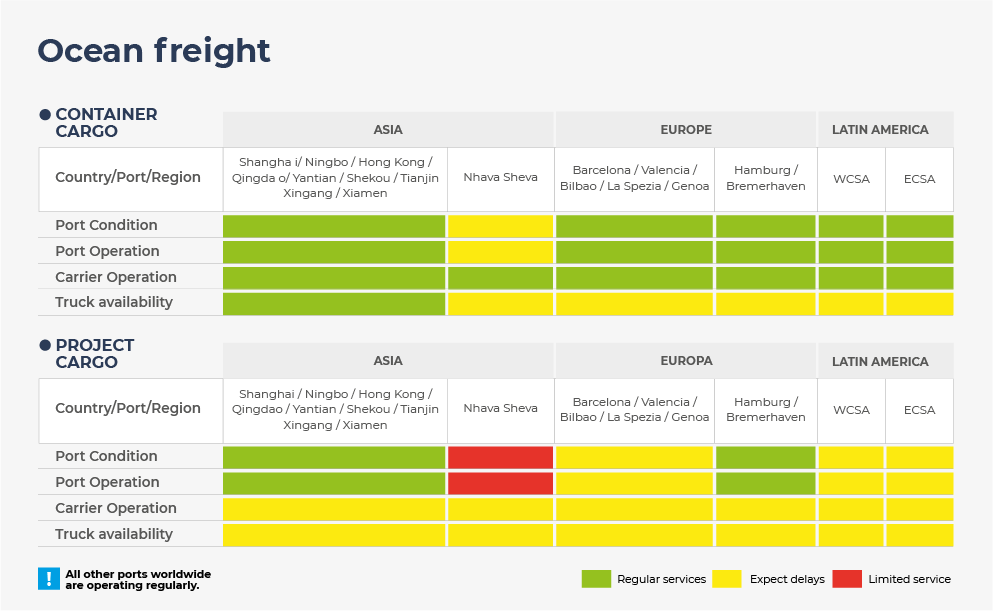 Ground freight
Central America
Carriers are reactivating operations for direct units (direct trucks) to all destinations.
Central American borders are open for the transit of all kinds of merchandise. However, there are still restrictions for the entry of foreign carriers in Costa Rica, so transit is slow and cargo within the country is subject to availability by national carriers. The borders of Costa Rica, El Salvador and Panama are requiring medical check-ups for operators.
Ciudad Hidalgo is still on curfew from 6pm to 5am and Guatemala from 4pm to 4am. Transport units can drive on both regions if they leave before the curfew.
From Mexico
We've increased 30% our availability of units in the Central and Bajio areas to trips to Cd. Hidalgo, due to the attraction and development of carriers.
North America
Mexico-United States and United States-Canada borders are still open and ground transportation units are operating normally. We keep offering ground freight services on Mexico's main borders: Laredo, Reynosa/McAllen, Matamoros/Brownsville, El Paso/Juárez, Nogales, Mexicali/Calexico, Tijuana/San Diego.
Carriers continue to operate without incident, in a period of reactivation of activities with a fleet available throughout Canada, the United States and Mexico. The industrial sector continues to start operations at lower levels compared to last year, but in visible improvement in relation to the last months.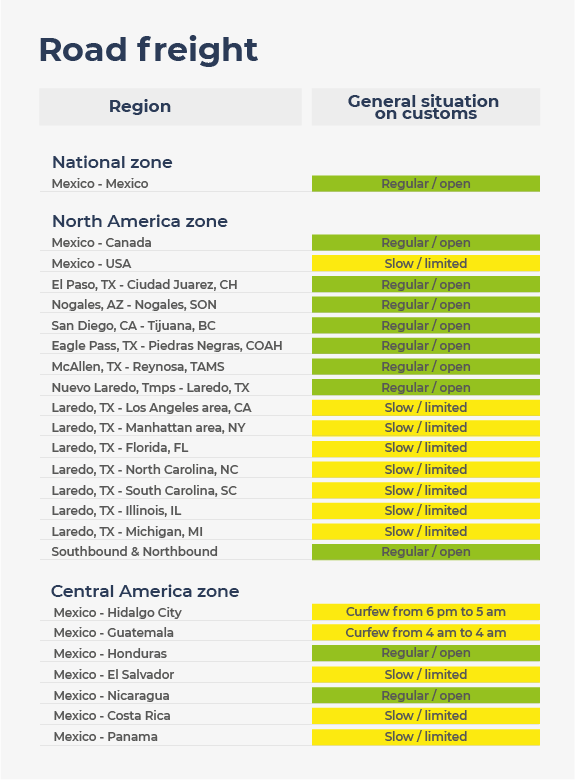 If you need more information, quotes or reservations, contact us right now sending an email to: info@europartners.com.mx or calling (from Mexico) to 800 888 EURO (3876). Get to know our new online tool!