We've interviewed some of our dedicated on-board couriers (OBC) to find out what has changed in such a delightful profession in times of contingency.
Although many passenger flights have been canceled worldwide as part of efforts to contain COVID-19, logistics and on-board courier (OBC) services were never interrupted.
But how are professionals in this area working? We talked with some of our most dedicated professionals to find out how they are doing and what it's like to have such an interesting profession. Check it out.
"It was a somewhat overwhelming experience to see the airports empty, with closed stores and flights with no more than 15 people," says Daniel Martínez, OBC since 2014. "There were only three passengers and the crew in one of my flights."
"There's less service and fewer flights," says Rosa Elena, OBC since 2010. "In security filters in Mexico they take your temperature. In the United States, they mark more the distance between passengers. Airlines are not providing food and beverage service. In the airports, most of the VIP lounges are closed," she says. But there is one good thing: "I haven't noticed any changes that I think might affect my performance as an OBC in any way," she states.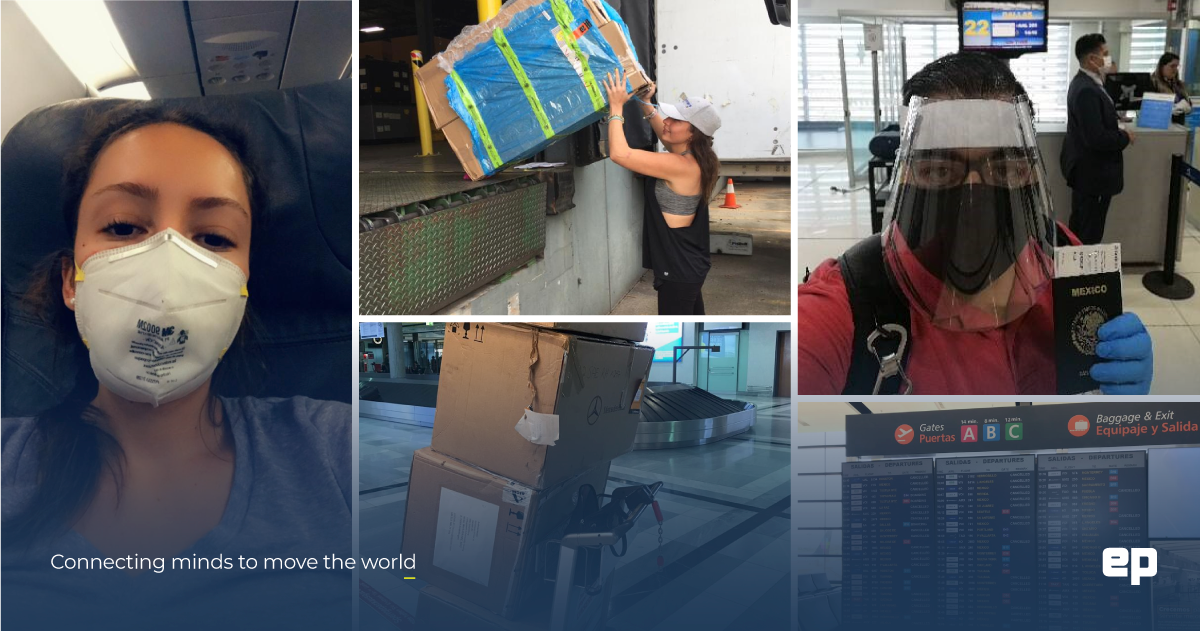 New measures for personal safety
Rosa Elena says that she hasn't stopped working as an OBC in the contingency and has even seen flights with many passengers. "In Mexico, I have noticed that, since there are fewer flights, they depart quite full, unlike flights in the United States, where they are assigning seats in such a way that no passengers sit together," she explains.
"Personally, the measures I have taken are to cover my mouth and wash my hands continuously," reiterates Rosa.
Daniel was more specific: "First of all, my personal protective equipment includes masks and nitrile gloves, which I change every two hours; I also adopted the acetate mask and I always have a small bottle of disinfectant with me".
He has also taken complementary measures: "I wash my hands whenever there is a bathroom nearby, and clean my space on the plane with antibacterial towels and any items that may have contact with others, such as the keys to the room, the rental car and the credit cards," he lists. "Finally, I always try to keep a safe distance from others. When I return to my house, the washing machine is waiting for me at the entrance, ready to start washing all my clothes, while I disinfect my other personal items and my backpack with antiseptic solution," he describes.
And what is it like to work as an OBC?
"It is a quite rewarding experience, for the opportunity to travel and for the new challenges in each service," says Daniel.
"But at the same time, it is extremely satisfying to know that, with our work, we help to prevent production lines from stopping –or reactivate them– in the industry we serve. I think we make the difference with efficiency, timely communication, punctuality and the expertise of our entire team of couriers", he adds.
Rosa says that a great differentiator for our clients is that EP has trained and certified couriers. "We are not so 'commercial', as we do not work with other companies. I feel that we all are highly commited; we try not only to comply, but to do the service in the best and most efficient way possible".
She closes the interview by saying that she loves working for EP. "I consider it to be one of the best companies to work as an OBC. I think they are very equitable in terms of prioritizing services. Everyone treats you quite well, the commissions are very attractive and, in general, the work environment is quite pleasant", she concludes.
What can OBCs do
As the cargo travels under the responsibility of the OBCs as their own baggage, they also obey restrictions that apply to all other passengers. However, the variety of needs that can be met by the service is quite wide.
OBCs can transport easily identifiable solid materials. That means: no gases, gels, liquids or powders, nothing that is flammable or that requires specialized handling.
Weight limits and measurements follow the rules for passenger flights. Between Mexico and the United States, only packages 23kg max. and 155 linear cm are allowed. In flights from and to Europe, each package can be 32kg, and each passenger can document up to five packages.
If a company needs to transport more than five packages using the security and agility of OBC services, we call more than one professional.
Main markets served by EP OBC services
At EP Group, our OBC services attend specially the automotive industry, transporting vehicle parts and electronic components to OEMs and Tiers that work on just-in-time and just-in-sequence systems. It is also quite frequent to move critical spare parts cargo for the factories' machinery, to avoid production chains' disruptions.
Another need perfectly met by OBC services is the secure transport of documents and sensitive information on digital drives (hard drives or cards). It looks like something on a James Bond movie, right? But it is nothing more than quality logistics fulfilling its role.
Our EP Group courier network is based in the main cities of Mexico and the United States: Mexico City, Querétaro, Toluca, Puebla, León, Guadalajara, Monterrey, Chihuahua, Ciudad Juárez, Hermosillo, Tijuana, San Diego, Los Angeles, Dallas, Houston, Chicago, Detroit, Atlanta, New York and Laredo, to mention some.
However, our global network also enables us to provide services from Asia and Europe (mainly Germany, Spain and France). Contact us to know in detail all our possibilities.
Do you need an OBC service or are you not sure if it is the best way to transport your critical cargo? Contact us. We are here to learn all about your most specific logistics' needs and find the best solution to meet your times and budget.