On January 2021, we organized a live webinar with our head of ocean imports and networks, Michele Lira, about the market situation in Asia, recommendations and alternatives.
The year started with a great spread of hope in the form of vaccines anti COVID-19, but also with some concerns related to the impact on the logistics industry and the saturation of the Ocean Freight lanes from China.
To bring some light to this last issue, we organized a live webinar about Ocean import possibilities in the lanes from Asia to Mexico.
Asia to Mexico market overview
In 2020, due to the COVID-19 pandemic, all the gradual lockdowns all over the world and the economic recession on the year's second quarter, the Ocean Freight market experienced a few situations before the big season, that became high-impact months later.
For instance, to avoid losses, shipping companies decided to diminish the amount of ships – and their sizes – to serve some routes, due to the decrease of cargo observed on April and May.
From the 3Q in, we've slowly started noticing commercial reactivation efforts, especially with China. And, by the end of August, rates started increasing fast and blank sailings announcements for September. All of that before the Golden Week celebrations, on the first week of October.
This is when we found out the shipping companies were experiencing lack of equipment and container shortages in Asia.
So, they've started repositioning containers from countries nearby and limiting the export from Southeast Asia and India.
At the same time, both in U.S. and Mexico, the exports flow was slow but steady. Empty equipment was being stranded in ports on both countries, such as Long Beach and Manzanillo.
Also, in Mexico, we've faced demonstrations along the train rails in Lazaro Cardenas port. That generated a substantial bottleneck with the containers loaded on the port, which slowed returning the empty ones.
On September, rates began to raise, starting from USD 4,000 and were gradually increasing.
In January, rates are already over USD 7,000.
We're foreseeing an increasing or, at least, that values are kept until March. But, at least on the first semester, we don't expect rates under USD 4,000 per container.
Rates increases in December must be applied on most trade lanes. For instance, from China to Europe, they reached historic records, from USD 11,000 to 14,000 per container.
Lack of equipment is an explanation, other is the increase in Europe's demand, in preparation for the next lockdowns announced.
We've organized this timeline, to show graphically the rates increase on 2020's last semester.
It's important to highlight that values are approximate because, for a while, rates changed every three days and varied accordingly to the shipping company and the rollover impacts, that were ongoing.
As you can check in the chart, in July and part of August rates were still valid for two weeks or a month, and the name accounts were still working normally.
In September, we started getting rates valid for only a week.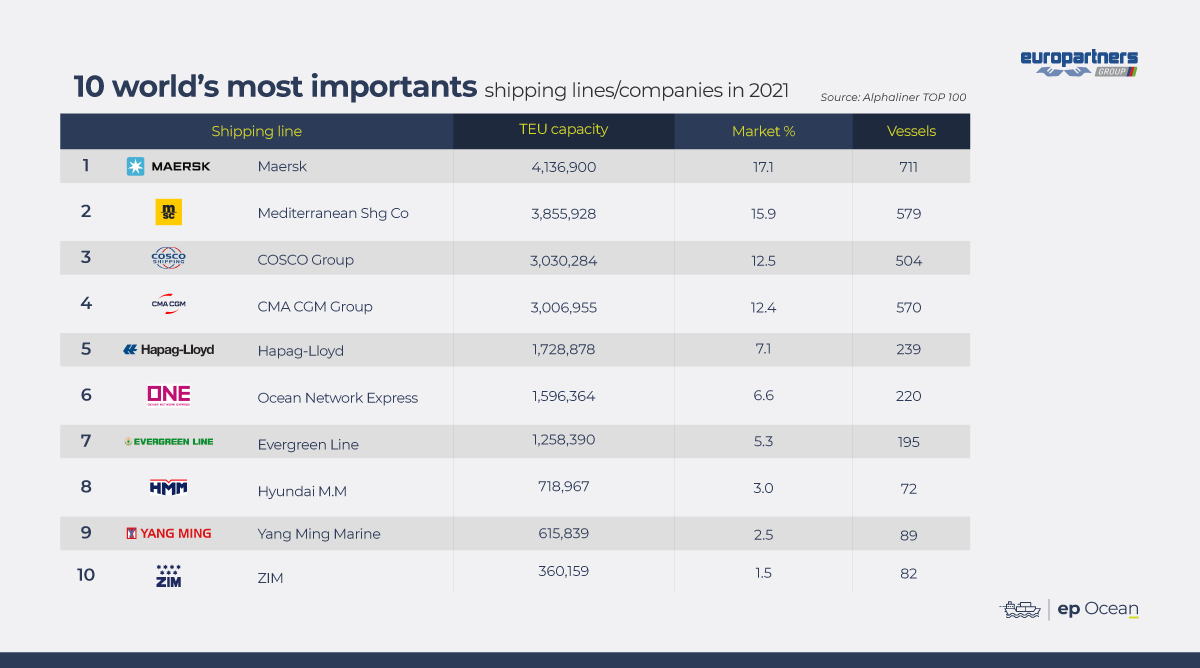 I think it's important to share this ranking with you because the prestigious "Alphaliner" magazine published the list with the main shipping companies, worldwide.
Their market share and their number of vessels and capacities is registered here.
Maersk is usually the trendsetter in rates and technologies. But, curiously, in 2020, it was MSC the one to implement strategies that impacted hard the market.
Some other shipping companies decided to adopt them, too. It's important to visualize the ranking and each shipping line's impact to the whole Ocean Freight.
Around November, we were notified by several shipping lines, such as ONE and MSC, that due to sanitary or COVID-19 protocols, the Southeast China and Hong Kong feeders and barges crew will cease activities in its main ports south of China.
Let's consider the Estimate Date of Arrival (EDA) to the base ports from January 5 to February 26, 2021. That means before and after the Chinese New Year.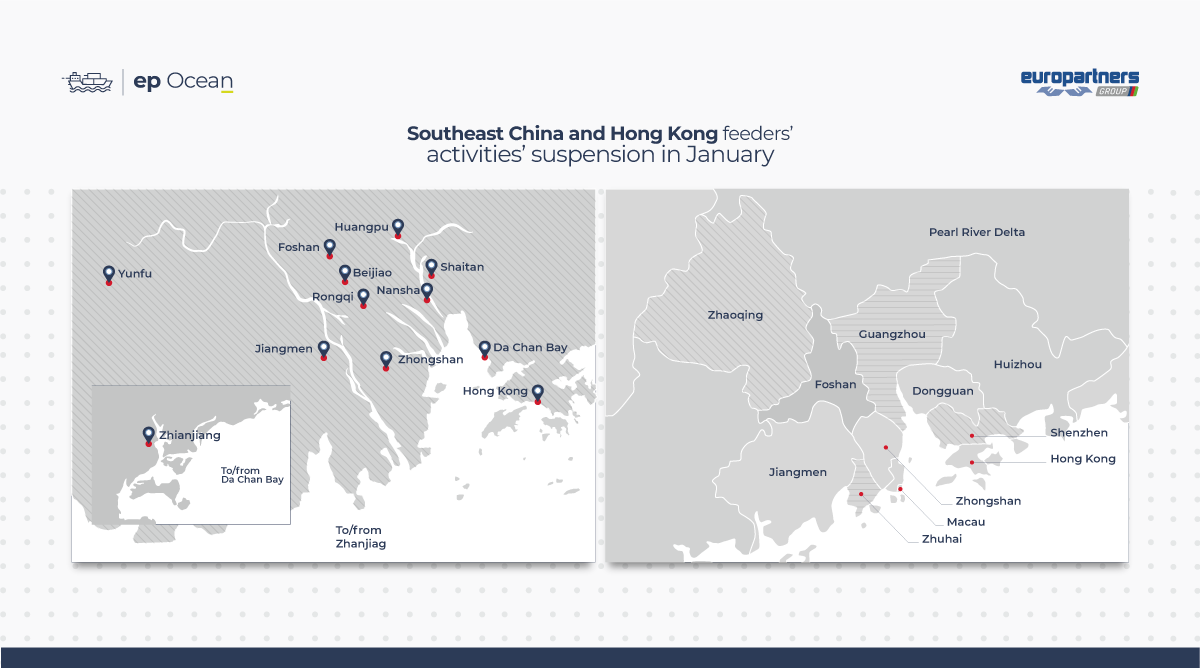 You can see in the maps above the Perk River delta region. It goes from Southeast China to Hong Kong. The most important provinces were highlighted.
Our partners in origin also let us know that some factories were already closing doors on January 20. We expect that OTR carriers, gradually, will start discontinuing services.
Heading for the Chinese New Year
We're on the final sprint before the Chinese New Year. The festivities' accurate date is February 12, but the holiday goes from February 11 to 17.
So, this January, besides the lack of equipment, there's a struggle for spaces and an urgency to embark. One of the situations we've faced relates bookings made one or two weeks in advance before the client's itinerary due date.
When they try to ship urgent cargo, they request spaces and equipment to several freight forwarders, resulting in several parallel bookings.
We notice that they make their decisions based on price and then cancel the other spaces.
The result is that shipping companies start to charge cancellation fees or apply other sanctions more often, and that will surely affect you.
After the Chinese New Year
After the celebrations, we foresee congestions at base ports, itinerary delays, cargo rollover, most frequently in transshipments.
For instance, if you're importing from India, with a transshipment in Busan, we'll have to struggle with the rollover. But, above all, we'll face a rate increase.
Recently, I had a chat with other teams in origin. They told me that rates after January 25 are already being applied over USD 8,000 per container. We expect those prices, or even higher, for EDD starting on February 20.
We haven't heard about blank sailings yet, after the Chinese New Year.
The word on the street is that blank sailings are believed to be minimal and we've also heard from our partners in origin ports that the plan is to increase the number of vessels over strategic routes. For instance, China to Europe.
Considering the situation worldwide, we've selected a few recommendations and options we can offer to ship your cargo.
Let's plan your cargo
If we can plan your cargo, let's do it! If you have a forecast of your shipping necessities, we can start booking in advance. We can do that with some shipping lines from 4 to 6 weeks in advance.
Your operations or commercial executive can help you find the best options to ship your cargo. For instance, if the barges are congested, the best idea may be moving the cargo using trucks or trains.
The most important thing is to consider the difference on rates. Maybe at that time, rates are in USD 7,500 per container and your cargo is ready to depart 4 weeks later.
It's quite likely that if we quote with that forecast, your rates will be higher, let's say USD 8,000.
But remember that we work directly with the shipping companies and they do their own projections and assess the market trends. So, when we purchase spaces in advance and secure equipment, costs will raise.
Think as if we were buying a plane ticket.
You know that the closest to the departure date, the most expensive are the tickets. So, with that in mind, I ask you to trust Europartners, as usual.
Earning your trust is very important to us and we're committed to find you the best option, always aiming to fulfill your necessities.
1. Let's choose premium services
In October, shipping companies started offering premium services.
That means an USD 1,000 to 1,200 extra cost, per container, over the Ocean Freight cost.
But what do we get with that extra cost?
Confidence.
Confidence that we'll get a space departing when you want, with the equipment you want, in the amount you need.
Besides, in some cases, the shipping lines are supporting us with "lates" in origin for documentation and arrival in origin port.
Conditions and benefits depend on each shipping line.
We suggest you ask your Europartners executive what's available for each shipment.
2. Let's change from FCL to LCL
All over this year, we'll been offering the Ocean import option to convert your FCL cargo to LCL.
As to say: changing from container cargo to groupage shipments. This initiative has been quite successful. Many of our clients have benefit not only for the cost but also, for the regularity of departures.
Right now, the rates increase has also impacted our partners, the co-loaders, and resulted in substantial rates increase. But it still a good option.
If your cargo is stowable, it has more volume than weight, it is general cargo and we can divide it in 4 or 5 pieces, it's a good candidate for the conversion from FCL to LCL.
We can also help you map transit times to book recurring departures. In some ports, such as Shanghai, we can have up to 3 weekly departures, so you don't have to suspend embarkments and can get your cargo going, continuously.
Besides, with LCL, you can forget about delays.
We also have Ground Freight options fit to your urgencies, such as dedicated or consolidates services, if you have a little bit more time.
What about the "storage-free" days?
Now let's talk about the measures adopted by the shipping lines in 2021.
The shipping lines priority now is moving containers all over the world and supplying the demand.
How can they do that?
Reducing the "storage-free" days in destination.
For instance, MSC has confirmed that from 21 days, they'll reduce them to 7. Cosco will offer 14 instead of 21.
So, we ask you to please confirm with your Europartners executive how many days were given to your embarkment. Let's make sure that the shipping company is giving you the amount of days you need to prevent you from spending more.
In Europartners, we're always looking for options and adapting to market changes. To accomplish that in these new conditions, we have two suggestions for you:
1. The first one is our one-way ground freight service.
It's a ground freight contracted outside the Bill of Lading (BL), directly with Europartners Group. When your cargo reaches the warehouse, our transport partner will leave the empty containers in a courtyard authorized by the shipping company, eliminating the storage service.
This option is only available in a few routes and depends on the availability of courtyards in some places.
It is vital to keep an open line of communication with you EP executive.
In some routes we can save from 25% to 30%, so it's quite attractive.
2. Negotiating Ground Freight directly with the shipping company.
I want to show you an example with MSC. If we get their Ground Freight services, we can get from 7 to 14 more "storage-free" days.
If you have any preferred shipping company, we can explore their conditions, so you can know exactly how many "storage-free" days they offer using their service.
Extra tip
Last, but not least, let me tell you that the shipping companies are preparing to raise their fuel surcharges related to low sulphur.
The surcharge has been introduced since September 2020 until today.
It went from USD 41 per Ton to USD 76. That's an important added cost to the basic vessels' costs that use that kind of fuel.
Shipping lines that have many vessels equipped with depurators or scrubbers will have a great ROI, since they'll have a great differential related to fuel prices.
We must learn soon which routes will be impacted. These surcharges must start being imposed in February, but we still don't know the percentage or the amount.
If you're considering organizing a bid on the next few months, for long-term negotiations, it's quite important to focus on the terms related to the fuel adjustment factors.
Air import alternatives
Our Air Freight Team in Europartners Group has prepared some alternatives, too, because we know that transit times, in some cases, may not be the best for your needs.
1. Forecast
2. Consolidation
3. Decide the dates
4. HUBs
5. Limit dimensions and weight
1. Forecast
As I've mentioned before, our teams suggest you getting a forecast that enables us visibility.
Let's keep in mind that "next day" services are usually the most expensive ones. It's also important to consider consolidation services.
2. Consolidation
Nowadays, comparing to spot rates, consolidation gives you certainty, especially regarding rates, and it secures departure dates, because consolidation services use preassigned spaces.
3. Decide the dates
Deciding dates in advance is also quite important, especially because if we know when the cargo will be ready for pickup and when it must arrive, we can choose the best option, keeping in mind that we have direct or stopover flight options.
4. HUBs
It's also important to learn about the HUBs. Sending cargo to the main HUBs or consolidation centers in China gives us a broader range of options to fly your cargo than just one logistic plan.
5. Limit dimensions and weight
Finally, it is also important to be aware of the limits for the cargo weight and dimensions. Let's keep in mind that passenger flights allow cargo with lower dimensions than cargo flights.
The pallets have basically the same dimensions, 3 m x 2 m, nevertheless, in passenger flights, the pallets travel in the lower deck –which is where people commonly say it's where they put the passenger's luggage– where the maximum height is 160 cm, when cargo flights can take 290 cm high pallets.
Considering all the above, we'll have more options to fulfill your requirements.
Air freight: what to expect after the Chinese New Year
After the festivities, the airlines should give most priority to Pharmaceutical cargo.
That should result in changes in flight frequencies, related to special requirements or flights with a great density of cargo, so the routes should change and that will result in greater flights rotation. This can somehow change the frequencies of flights or the preview itineraries presented.
To rely on the broader possible variety of alternatives available on services to Mexico, regarding the rates volatility, it is important to understand that the market has been affected and some airlines still haven't resumed all their operations yet, so with their "airplane on the ground" (AOG) situation, besides the airlines' losses, the competition for spaces available increase and rates become more volatile.
Just as in Ocean Freight, consolidation is certainly a quite important option, especially to operate in a regular and constant basis.
Why should you choose to consolidate your cargo?
Because differently from spot services, when consolidating, you can rely on spaces booked with anticipation, which gives you certainty on the service.
Besides that, in Europartners, we're always working hard to be one step ahead and, when we consolidate, we seek to purchase complete spaces, ss to say, the complete position, instead of delivering loose cargo to the airline, we can give them a neatly wrapped pallet.
What's the advantage?
Avoiding letting the airlines putting the pallets together as they wish and, especially, ensuring that the cargo will fly in good conditions and complete.
Regarding the spaces and the rates, far from presenting a solution, a booming market is being created.
Each day, more cargo agents are trying to get those positions with the airlines to secure spaces, reducing the opportunities for spot freight departures.
In the spot freight, even you book, you depend on free spaces to depart. With today's volatility, we don't have enough certainty. In other words, we cannot ensure rates on the long term, precisely for the booming market situation.
Obviously, the disadvantage here is that when you quote a spot rate, usually, the result is that due to the volatility and for the expediency of the flight, the costs will be quite high.
Regarding the delays in departures, let's keep in mind that in the pandemic we've face delays on the first mile due to lack of operators and, especially, on ground handling services, mainly in airports where warehouses are working with only 50-70% of their staff and obviously the amount of work is accumulating, since it's not just about organizing flights anymore, but also getting the imports.
So, with that in mind, Europartners is working to guide you and to find, together, the best solution for the lowest price.
To conclude, please try to prevent situations, not to react to them. Contact us to get the best options for your specific needs.
Watch the full video (with subtitles in English):
Europartners in the specialized media
A few weeks later, on February 2, Michele Lira represented Europartners Group in one of the "Logistics Business Dialogues" organized online by the specialized magazine T21, discussing the trends of Ocean Freight in 2021.
As in the webinar promoted by Europartners Group, the T21 discussion focused on the explosion of Ocean Freight rates in 2020. "I saw the boom while we were getting ready for the Golden Week, at the end of August, when rates reached USD 4,000, not only from trade lanes in China, but also from other parts of Southeast Asia ", Michele remembered.
Global impact
In 2020, we say an explosion in demand. Consumers and companies required transportation, but there was also a phenomenon of reduction in shipping capacity (lack of space). So, the rates of the spaces available went sky-high.
Rates with Asia reached historic levels (see table above for details) and something similar happened with the route to the United States. A large number of COVID-19 infections in California generated congestion in the port of Long Beach, reaching 16 ships stuck due to lack of infrastructure.
The situation generated a high scape for the ports of Ensenada and Manzanillo, and a great demand for Ground Freight alternatives. Co-loaders are paying high prizes to guarantee weekly departures.
In February, the rates will not drop below USD 8,000.
For Michele, the challenge today is to explain to consumers the situation of the Ocean Freight market. "'Why don't you respect the contract and the rate?' They ask me. "Why, if they rollout my load, do they raise my prices?" We have to talk about volatility. Before, we were always after the best prices and deals. Something like a monthly auction. Now the reality is different," says Michele.
Freight forwarders must focus on the adaptability potential of importers, which is directly related to the characteristics of their products.
"Getting to book a little more in advance is essential to get equipment, spaces and departures," is her tip. "We have to guide our clients, make them trust us more, because it is difficult to get the crystal ball out," says Michele.
She also said that Europartners teams have received more information from origin on the last few days. Freight rates will not get down to pre-pandemic levels again, although there could be a reduction in the months of April and May. In June there could be a new price hike and the problem of the lack of equipment should last until that month.
"How full the ships come will determine the rates," she says. Shipping companies are trying to ease congestion. March should present another boom, and only after that the low season begins, "but the lack of equipment must continue", predicts the director of Europartners Group.
Another market situation is that the shortage of containers is affecting exports from Mexico to Latin America (LATAM).
"If shipping companies can reposition containers to China for USD 8,000 each, they are not going to send to a country that charges USD 500 – 600 per container," explains Michele.
She reiterated the importance of adaptability in the current maritime transport scenario. "Customers are eager for their freight forwarders to get 'out of the box' ideas. Finding suppliers from outside China – except India, where the situation is also complicated -, for example".
Michele Lira also reiterated another point that she had made in the Europartners Group webinar: the shipping lines are granting less "storage free days". "We have to talk with our clients and importers to plan their cargos well. If we want to continue handling cargo from Asia as it was two years ago, it is not going to work. We must look for options", Michele emphasized. And she recalled that there are other risk points along the way: "The low sulfur charge for fuel is still coming, which has already begun to affect Europe and will reach us soon." Europartners Group's Ocean import and export teams are at your disposal to plan your loads in advance and considering all the information we are receiving at destination. Contact us now!
Changes in global consumption behavior
E-commerce just boosted! As we were all at home due to the contingency, our consumption habits changed: the online purchase of basic needs, sports and recreation equipment rebounded.
Europartners Group director of Ocean import also spoke of the changes in the market related to the contingency: "seasonal items have now changed to materials for individual physical exercise, domestic pools for children, bicycles, as well as basic necessities," he said.
"There is a long way to go in e-commerce. WE advanced about 10 years, but we have a long way to go. The FFWs must adapt to this part of the market, become partners to be able to supply what everyone needs", said Michele Lira.
"Now, in this new wave of COVID-19 in Europe, they have resumed the consumption of basic supplies. However, we have seen that when the number of infections drops, consumers look for entertainment, baking items and things they don't really need. E-commerce is here to stay, strengthening demand from China", Michele sums up, recalling the impact for importers, who must rethink their ways of selling at destination. "We have a lot to exploit to find new ways to support that market," she concludes.
Credit
"Credit today is a luxury that not everyone can grant," said Michele Lira. "Before, we needed authorization for credit over USD 15,000. Now this is not enough for two containers," she revealed.
Michele reiterated the importance of getting in contact with their importers to know how their financial health is going, the importance of paying on time and revealed that there are reported cases of cargo abandonment, which results in losses for the FFW, due to their commitment to the shipping companies.
To close, Michele Lira emphasized the importance of carefully observing the behavior of the market in March and April, which will dictate the pattern.
She predicts that essential, electronic and medical items will continue to be a trend; luxury goods will be impacted by rising unemployment levels.
"We must continue to adapt. It is very difficult to go back to previous levels. If shipping companies have the power, it is unlikely to drop below 4,000. On the logistics side, we had to learn to come up with new solutions. And 2021 will be our year to solve things", concluded the director of EP Ocean.
You can watch the full video of the T21 table here: